Best values at back pressure
The flanged safety valve of the series 455 is characterized by its safe functions when the safety valve opens and closes. It also remains stable under the influence of possible external pressure or built-up back pressure in the discharge line. The new flanged safety valves are available in the nominal diameters DN 20 up to DN 100 and achieve continuous high-level performances.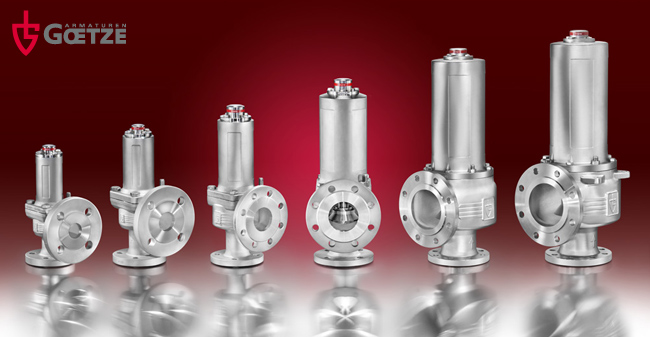 Highest requirements for hygienic applications realized in a unique way
At the development of the new safety valve series 4000, very high requirements are applied on optimal clean ability and dead space free construction. These exact principles have been fulfilled by using a conical diaphragm instead of a rubber flange. For the lifting of the valves, additionally there is a pneumatic piston actuator and optionally a proximity switch for the display of the valve opening available.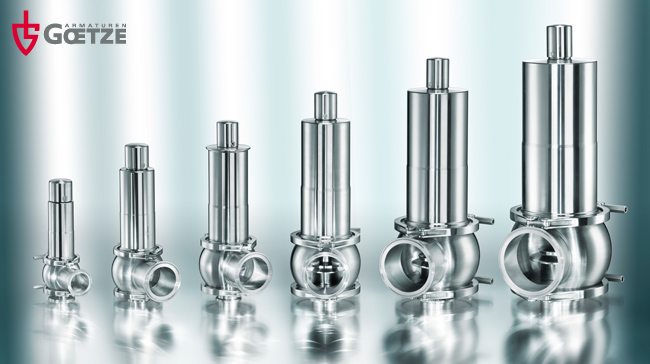 Safe function in cryogenic applications
As is the stainless steel series 2400/2700 the new safety valves for cryogenic applications, made of gunmetal, are distinguished by particularly good flow geometry. The series 2480 is characterized by an increased outlet by one or two nominal diameters. Thus, within one valve size, there are two different performance classes available.


Wide variety of product series
Furthermore, Goetze presents numerous variations of well-proven series and - as a complement to the accessory parts - a venting valve for the protection against vacuum in tank systems and heat exchangers.


Visit us at the Valve World 2016 in Düsseldorf:
Hall 3, Stand E29
29.11.–01.12.2016 | 09:00–18:00
Messe Düsseldorf
Stockumer Kirchstraße 61
40474 Düsseldorf


The company
For more than 65 years, Goetze has been manufacturing high-performance fittings and valves for all types of media under pressure:: Air, liquids, gases and vapours of all kinds. The headquarters of the company as well as the production are located in Ludwigsburg. Furthermore there are own distribution companies in the United Kingdom, Russia and China.


The family-owned company is managed in the third generation by Detlef Weimann. The level of quality ("Made in Germany") has made a name for itself all over the world – meanwhile, more than half of the production goes to foreign markets.